May 1, 2022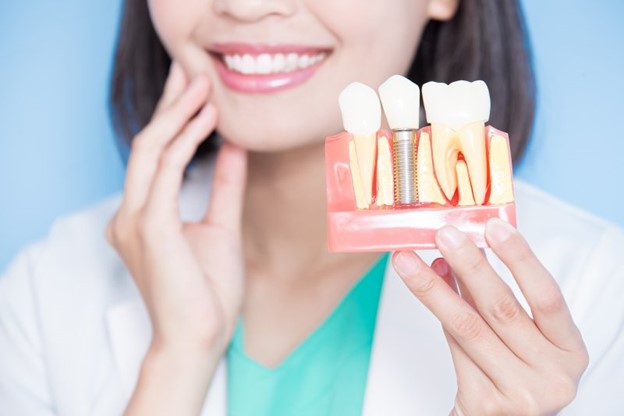 Dental implants are in a class of their own when it comes to replacing missing teeth! But even with roughly half a million people receiving them annually, there are still many myths and misconceptions surrounding this awesome treatment option. Here are five interesting, little-known facts about dental implants that you should know about.
1. Dental Implants Are Cavity-Proof
Unlike your natural teeth, dental implants are incredibly resilient to cavities and tooth decay. This is because they're crafted from special porcelain and titanium materials that are durable and built to last. However, the area surrounding your dental implants is still vulnerable to infection if you don't take proper care of your mouth! Dental implants still need to be maintained despite their resistance to tooth decay; regularly brush, floss, and rinse your mouth with an antibacterial mouthwash.
2. They Have A 95% Success Rate
Believe it or not, dental implants have an outstanding average success rate of 95%! This is in part due to the constant advancements in medical science and technology which continue to make treatments like implants an increasingly viable option. Implants can also restore approximately 70% of your chewing power—for reference, traditional dentures or false teeth only give you around 30%.
3. You Still Need to Mind Your Diet
As great as dental implants are, you'll still need to be aware of your diet and make necessary lifestyle adjustments for the first six months or so after receiving implants. As the surgical sites heal and the titanium posts of your implants fuse with your jawbone, you will have to avoid particularly hard or crunchy foods. You should also avoid biting into hard objects like ice cubes or your fingernails, and certainly refrain from using your new implants to open packets or bottles!
4. They Will Restore Your Confidence in Addition to Your Teeth
Dental implants are something worth being excited about, unlike other options like dentures. This is because they don't just replace your missing teeth; they also restore your confidence! Dental implants will fill out your face and make you appear much younger, as they provide the same facial support as your natural teeth while reducing visible facial wrinkles. And they don't just look like your real teeth—they function like them, too.
5. Dental Implants Can Be Relatively Inexpensive
Implants are an investment in your dental health and your overall well-being; when you view it as such, the cost seems worthwhile. That said, the cost of dental implants can vary, depending on the number of teeth you're missing. However, since they can last for 20 or so years with proper care, it's considered a cost-effective solution that can save you money down the road if you're willing to spend a little now.
You shouldn't have to settle for an unsatisfactory smile, and dental implants can easily provide you with the answer you're looking for! Don't let any myths or misinformation dissuade you; they're an excellent solution with many superb benefits.
About the Practice
Cordini Periodontics proudly serves patients and families in the Louisville area under the leadership of Dr. Franco Cordini. Dr. Cordini received his dental doctorate from the Creighton University School of Dentistry and has spent the last 20 years honing his craft while helping his patients achieve their smile goals. His practice offers many available services, including dental implants! To schedule a visit, please reach out online or by phone: (502) 425-5010.
Comments Off

on 5 Interesting Facts About Dental Implants You Probably Didn't Know
No Comments
No comments yet.
RSS feed for comments on this post.
Sorry, the comment form is closed at this time.