TeethXpress Dental Implant Prosthetics — Louisville, KY
Recover Your Smile in a Single Appointment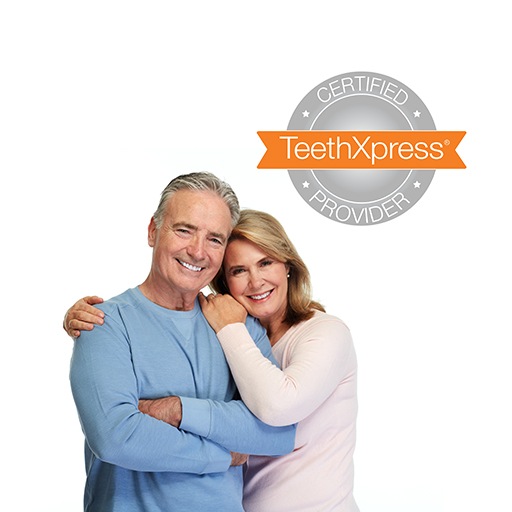 If you, like many of the patients we see at Cordini Periodontics and Implants, are missing most or all of your teeth, you may assume that having them replaced will be a long and arduous process. While that might be true at other periodontal offices, Dr. Cordini can often restore an entire row of teeth in a single appointment using TeethXpress. What exaclty are TeethXpress dental implant prosthetics from our Louisville, KY periodontist? For many patients, it's exactly what they need to recover their smiles and confidence in record time, and now, you can get it right here in Louisville.
Why Choose Cordini Periodontics & Implants for TeethXpress Dental Implant Prosthetics?
Care Provided By Certified Periodontist with 10+ Years of Experience
Restore An Entire Arch of Teeth in a Single Visit
Sedation Available to Make The Process 100% Comfortable
What is TeethXpress?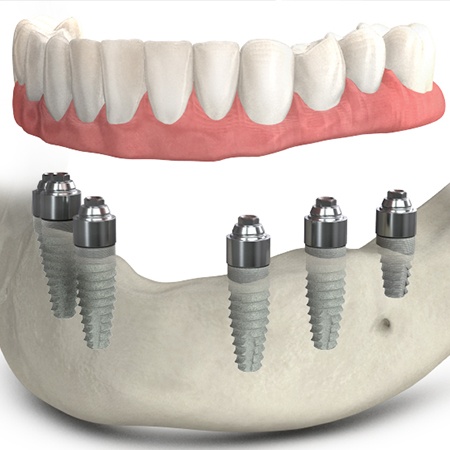 TeethXpress is a state-of-the-art procedure that allows a patient to receive an implant denture in a single visit to our periodontal office. Unlike a traditional denture that sits on top of the gums, TeethXpress dentures are anchored to the jawbone using just 4-6 implants. This gives them incredible strength and longevity. While a traditional denture can be expected to last for about 7-10 years on average, dental implants have an impressive 30+ year lifespan.
How Does TeethXpress Work?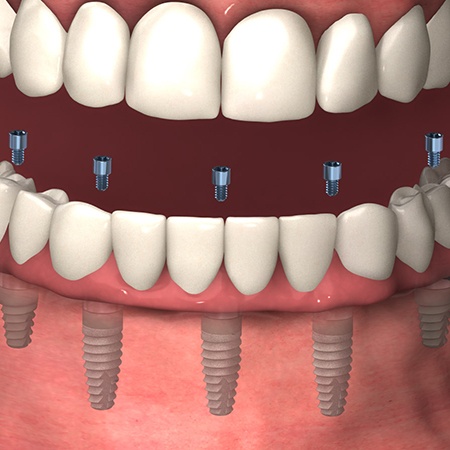 The entire TeethXpress procedure is completed over the course of three to four hours. To ensure that a patient remains comfortable the entire time, our periodontal office is happy to offer sedation. If necessary, any remaining or failing teeth will be extracted by Dr. Cordini, and then he will surgically place the implants into the jaw. Thanks to local anesthetic and his expert touch, most patients describe feeling a little pressure during this process, but nothing that resembles pain.
Once the implants are seated, a brand-new denture is attached on top, some minor adjustments are made to ensure the perfect fit, and then the patient can walk out with a completely renewed smile.
Who is a Good Candidate for TeethXpress?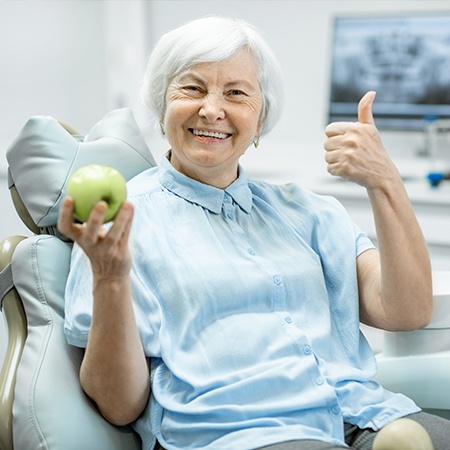 TeethXpress is primarily recommended to patients who are missing most or all of their teeth along a single arch who also have a jawbone that is strong enough to support implants. If a patient has experienced bone loss or is currently dealing with periodontal disease, Dr. Cordini will address these problems first before completing the TeethXpress procedure.
It is also a viable option for patients who currently wear a denture that slips and slides around, as TeethXpress dentures stay rock-solid thanks to the support provided by the implants.
TeethXpress FAQs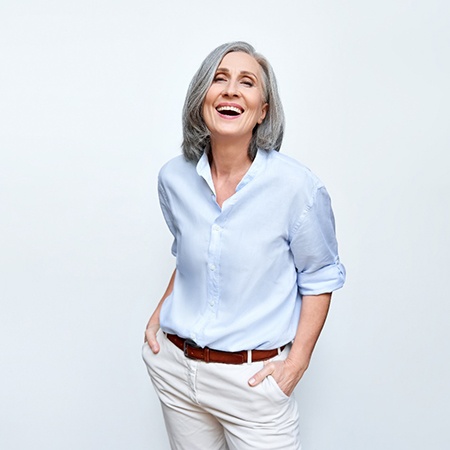 Dr. Cordini and our team are ready to help you rebuild your smile with TeethXpress implant dentures in Louisville. Because this procedure represents a significant financial commitment, however, you may want to know more about it before you move ahead. To help put your mind at ease, we have compiled a list of frequently asked questions about TeethXpress, along with succinct answers. Give us a call if you don't find the information you were hoping for. We look forward to speaking with you!
What Is the Difference Between TeethXpress and All-on-4?
Both All-on-4 and TeethXpress are streamlined dental implant procedures designed to provide patients with a new set of teeth in a single appointment. The biggest difference between them is that All-on-4 uses just four dental implants. With TeethXpress, the number of implants used is determined on a patient by patient basis. Some individuals need just four, while others would experience better results with five or six implants per dental arch.
What Are the Biggest Benefits of TeethXpress Treatment?
Some of the top benefits of TeethXpress include:
The treatment process is faster than what is typical with traditional dental implant procedures.
A TeethXpress implant denture can enable you to eat virtually any food, including items that are off-limits with traditional dentures.
Since dental implants preserve the jawbone, you can expect your prosthetic teeth to retain their fit for many years.
Implant dentures are carefully designed to look and feel as natural as possible.
Since a TeethXpress denture is permanently attached to the implants that support it, you can expect it to be easy to care for.
What Can I Expect During the TeethXpress Recovery Period?
After your surgery and denture placement, you can expect some oral soreness and tenderness. Dr. Cordini will provide you with detailed post-op instructions to make your recovery as comfortable as possible. For example, you may need to take pain medications, get plenty of rest, and use a prescription mouthwash.
Some dietary changes will also be necessary. Until you are well-recovered from your surgery, you should stick to eating either a liquid diet or foods that are extremely easy to chew. Once your implants have formed a strong bond with your jawbone, you should be able to eat virtually anything.
Are There Any Risks Associated with TeethXpress Treatment?
There is no such thing as a completely risk-free medical or dental procedure. However, you can rest assured that Dr. Cordini takes precautions to make the treatment process as safe as possible for patients. In fact, the TeethXpress procedure has an initial success rate of over 99%! Of course, if you ever run into any problems with your new teeth, you should contact our practice right away. We will do all we can to address the issue and get your smile's health and function back on track as soon as possible.