Full Mouth Reconstruction – Louisville, KY
Completely Repair Your Entire Smile
Are you deeply unhappy with your smile but don't know how to fix it? If you have multiple damaged, decayed, or worn-down teeth, addressing all your dental flaws can feel like an impossible task. However, it's never too late to achieve a healthy, functional smile! If one or two simple treatments is not enough to reach your smile goals, you may benefit from a full mouth reconstruction. Dr. Cordini will combine a mix of restorative and cosmetic services to repair compromised teeth and boost your appearance. Want to know more? Keep reading to learn about full mouth reconstruction in Louisville.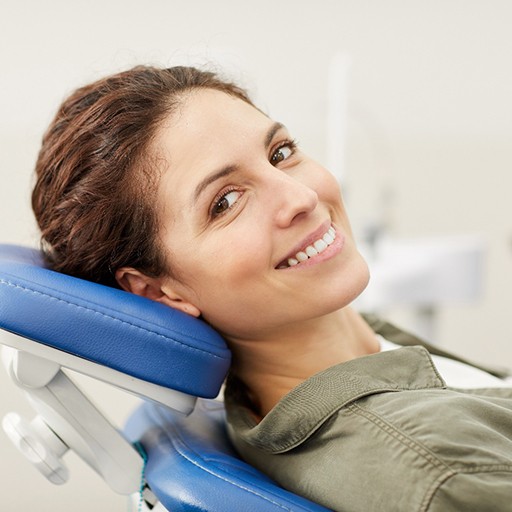 Is Full Mouth Reconstruction Right for Me?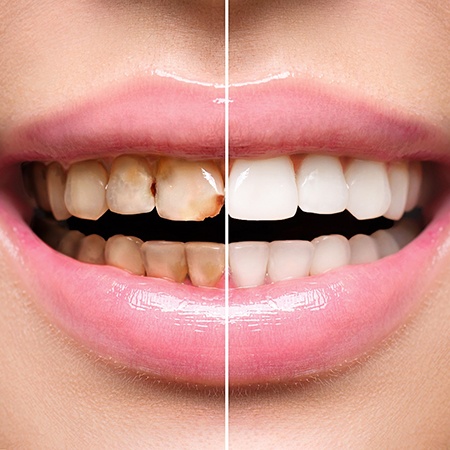 The goal of full mouth reconstruction is to improve one's oral health and restore the appearance and function of all the teeth in their mouth. The exact combination of procedures necessary to achieve this will vary from patient to patient depending on each person's unique dental needs and goals. You may be a candidate for a full mouth reconstruction if your smile has sustained severe damage or decay in multiple parts of your mouth. Restoring your smile with a full mouth reconstruction will not only boost the health of your smile but can also increase your self-confidence! The best way to determine if you could benefit from this comprehensive treatment is to talk with dentist in Louisville.
The Full Mouth Reconstruction Process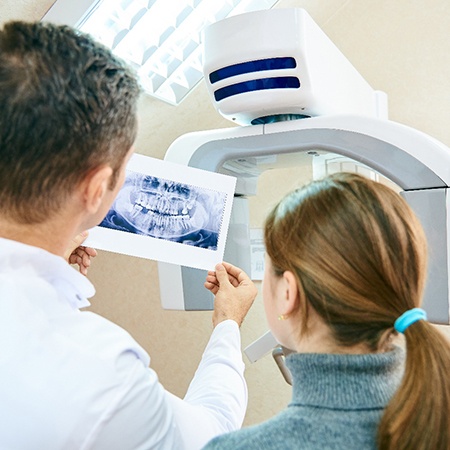 Every full mouth reconstruction begins the same way: with an initial consultation. During this first visit, Dr. Cordini will carefully examine your teeth, discuss your personal smile goals, and take any necessary X-rays. Next, he will create a custom treatment plan to repair, rebuild, and enhance your smile. Depending on your unique needs, your full mouth reconstruction plan may involve some combination of the following procedures:
Root Canals
Extractions
Dental Implants
Tooth-Colored Fillings
Full and Partial Dentures
Dental Crowns and/or Bridges
Veneers
Teeth Whitening
The length of your treatment will depend on several factors, including which procedures are utilized. For example, a dental filling can be placed in a single visit, while dental implants require multiple appointments and a healing period of several months. Dr. Cordini will be able to provide you with an informed timeline and accurate cost estimate of your full mouth reconstruction at your initial consultation.
Understanding the Cost of a Full Mouth Reconstruction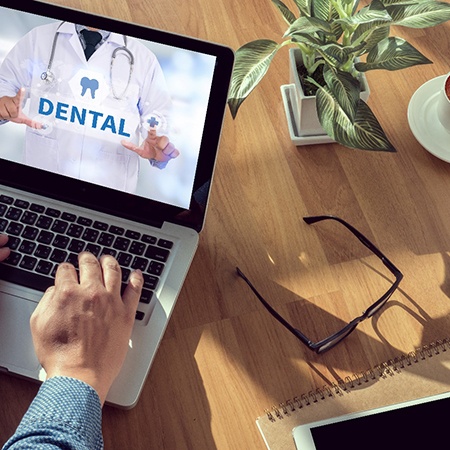 Every full mouth reconstruction is slightly different because each patient has distinct needs. The cost to repair your smile will depend on which restorative and cosmetic treatments are included in your personalized reconstruction plan. Rest assured our team will provide you with an accurate cost estimate during your initial consultation. You can likely count on your health insurance to help reduce out-of-pocket costs related to restorative treatments. In addition, qualified patients can take advantage of flexible dental financing through CareCredit or Proceed Finance. Both of these organizations help patients break down the cost of full mouth reconstruction into manageable monthly payments. Feel free to contact our team at any time if you would like further clarification regarding costs and payment options.
Full Mouth Reconstruction FAQs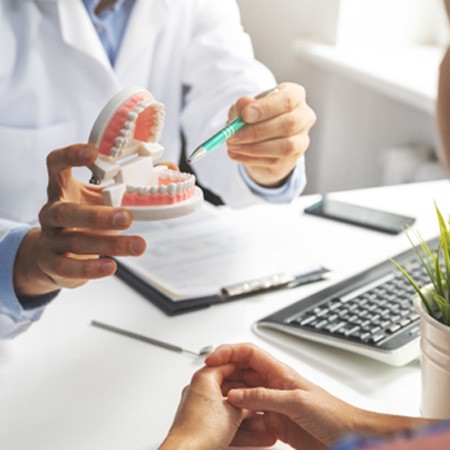 While you may want a full mouth reconstruction, you may hesitate to get one. After all, the treatment is involved and consists of multiple dental procedures. It's only natural that you would worry about how this service would work. Fortunately, though, Cordini Periodontics is here to help: listed below are some answers to oft-asked questions about full mouth reconstructions. Feel free to read them and learn what your visit could look like. Otherwise, please call us for further details.
Why Is My Dentist Recommending a Full Mouth Reconstruction?
If your dentist suggests full mouth reconstruction, chances are you need it. They'd only recommend this treatment if they truly believed it would improve your quality of life.
For instance, the reconstruction could help a patient struggling to chew their food. An initial root canal could eliminate any tooth pain. From there, following up with veneers would improve both looks and confidence. The patient could then enjoy a far superior dining experience.
Of course, don't hesitate to ask your dentist about the matter. If you have questions about why a reconstruction is recommended, bring them up! Your dental provider can then explain their diagnosis and treatment so you can make an informed decision.
How Long Does a Full Mouth Reconstruction Procedure Take?
Ultimately, how long a reconstruction takes varies by patient. The treatment's duration, in other words, depends on your unique situation.
One factor in the timing is issue severity. If many teeth require care, treatment will run longer than it would if only a few did. Similarly, a reconstruction made up of several services needs more time than one with just a couple.
Something else to consider is whether the procedures are done simultaneously or consecutively. In the former case, the reconstruction shouldn't take that long. For the latter scenario, though, your treatment will involve more time.
Given these facts, remember to bring up any scheduling concerns during your initial consultation.
Does Getting a Full Mouth Reconstruction Hurt?
Overall, no – a full mouth reconstruction shouldn't hurt. In fact, your dentist's goal is for it to be comfortable and stress-free.
For starters, local anesthetic is used when reconstruction involves invasive work. (Placing dental implants and crowns are examples.) This approach ensures your mouth is numb while the dentist preps and shapes your teeth.
Furthermore, dentists can provide sedation dentistry for particularly anxious patients. Not only would the sedative help calm nerves, but it would also provide additional pain relief.
Admittedly, you may feel some soreness following the reconstruction. However, you can minimize any aches by following the dentist's aftercare instructions. These might include sticking to soft foods, avoiding hot beverages, etc.
How Long Will My Full Mouth Reconstruction Results Last?
A reconstruction's lifespan looks different for each patient. The longevity of results, you see, will vary based on how you care for your smile.
To make sure your new-and-improved smile lasts, consider following these tips:
Practice Good Oral Hygiene – As you always should, brush your teeth twice daily and floss them once daily.
Avoid Risky Foods – Try not to chew hard foods that could chip your teeth. In particular, avoid items like peanut brittle, jawbreakers, and shelled nuts.
Quit Bad Oral Habits – Smoking, teeth grinding, and ice-chewing tend to damage your chompers. Therefore, quit them as best you can.