Dental Implants – Louisville, KY
Replacing Your Teeth with Sturdy, Stable Prosthetics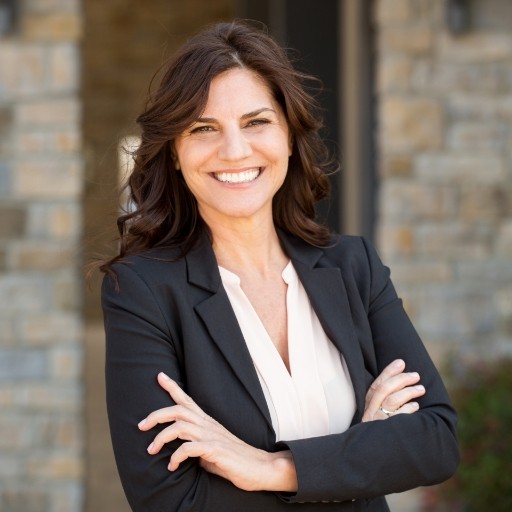 It won't take long for you to realize just how challenging life without teeth can be, so naturally you'll start looking for replacement options as soon as possible. Dentures and bridges both have their advantages, but if you want your new teeth to function and feel like your old ones, then there's only one real choice: dental implants. If you schedule a consultation with Dr. Cordini, he can help you determine whether or not you're a candidate for rebuilding your smile with dental implants in our Louisville, KY periodontal office.
Why Choose Cordini Periodontics & Implants for Dental Implants?
Up to Date with the Latest Technology
Periodontist That Helps You Feel at Ease
Restorations Made and Placed In-House
What is a Dental Implant?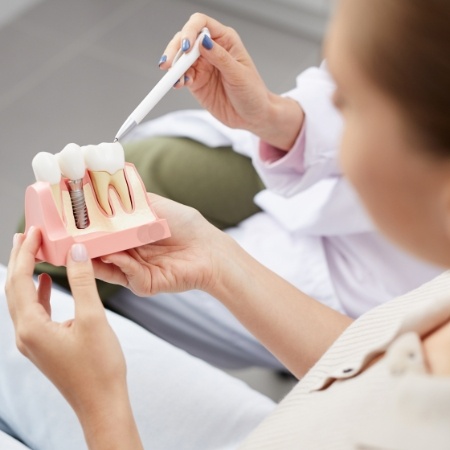 By itself, a dental implant resembles a small screw. Unlike other tooth replacements that rest on the gums or natural teeth, implants interface directly with the jawbone, fusing with the surrounding tissue and essentially becoming part of your body. A fully integrated dental implant can act as support for a wide variety of restorations, such as a single crown, a dental bridge, or even full dentures depending on how many teeth are missing or extracted.
4 Step Dental Implant Process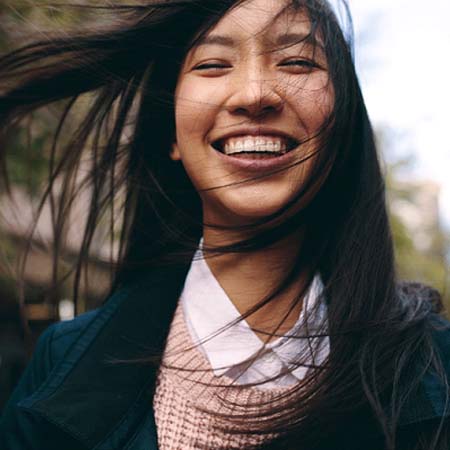 Our practice handles every step of the dental implant process in-house, from the first consultation to determine whether you're a candidate for the procedure to the design and placement of the final prosthetic. The process of getting dental implants isn't one that you can complete in just one day; it's a process that takes multiple appointments and can take several months or even a year. The steps you take on your journey to an implant-supported smile may be slightly different from other patients, but there are four basic steps you can expect to follow no matter what.
Initial Dental Implant Consultation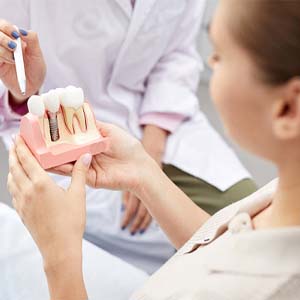 Before anything else, we need to confirm how many teeth need to be replaced and make sure that you are a good candidate for the surgery. We'll examine your mouth and facial structures with state-of-the-art technology that will let us identify bone loss and other problems that might get in the way of the implant process. Don't worry if we find any issues; oftentimes, that just means you'll need to undergo preliminary work light bone grafting before you can receive actual implants.
Dental Implant Surgery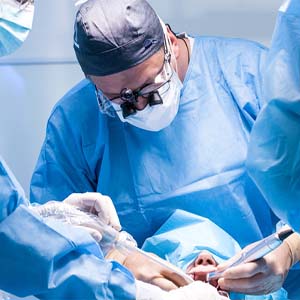 Implant placement does involve surgery, but it's a relatively simple process. After making incisions in your gum tissue, we'll make small holes in the bone; the location and depth of these holes will be planned carefully in advance. The implants are then placed at specific angles before the gums are shut. A cap is typically placed on the implants to protect them; this also helps the gums maintain their shape while your mouth is healing.
Dental Implant Osseointegration & Abutment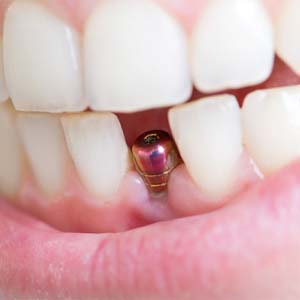 Osseointegration is the name for the process where the implant posts merge with the jawbone. It takes about 3 to 6 months, but every patient has a different timeline depending on how many posts were placed and how fast their mouth naturally heals. You can get an abutment for each implant post once osseointegration is complete. An abutment is a small metal connector piece, and it's what makes it possible for us to attach a crown or another kind of restoration to the implant post.
Delivery of Dental Implant Restoration(s)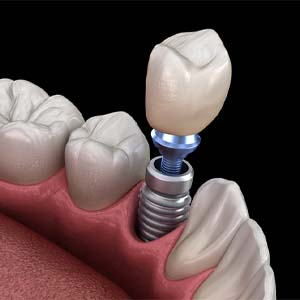 Dental implant restorations are specifically designed for each patient in order to capture the perfect fit and a natural-looking appearance. The materials that are used to make dental implant restorations look virtually the same as tooth enamel and even reflect light in a similar way. On the day that you visit our office to have the restoration attached to your implant posts, we'll perform a last-minute check and see if there are any adjustments that need to be made. Then we will attach the restoration to the abutments. Once secured in place, the restoration will look just like your natural teeth. It will look as though there was never any empty space to begin with!
Benefits of Dental Implants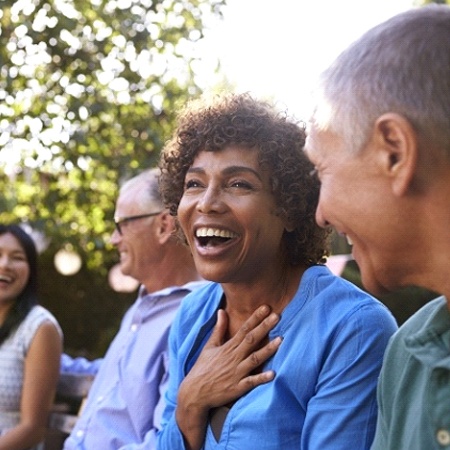 Dental implants offer the most complete form of tooth replacement because they fill in for the roots normally hidden beneath the gums. As such, your new teeth will be firmly anchored in place, and they'll continue to stimulate the underlying jawbone to keep it from breaking down. Also, when it comes to durability, dental implants last decades longer than traditional forms of tooth replacement. They'll also allow you to comfortably bite and chew your favorite foods without restriction. At Cordini Periodontics & Implants, let us help you better understand the benefits of dental implants in Louisville. Review the information below and contact us with any questions or concerns you might have.
Day-to-Day Benefits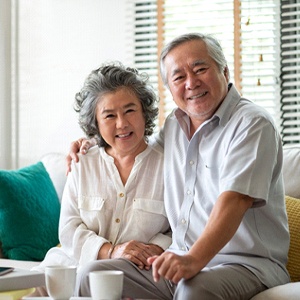 Ability to Eat the Foods You Love: Consuming a nutrient-rich diet is necessary when living with dental implants. Fortunately, they will give you a stronger bite force and chewing power, making it easy to enjoy the foods you love.
Improved Appearance: Dental implants in Louisville are made of high-quality materials that look and feel natural. They blend in seamlessly with the rest of your smile and make it impossible for others to tell the difference between your real and artificial teeth.
Easy Maintenance: Unlike dentures and dental bridges, dental implants are much easier to clean, thus, minimizing your risk for gum disease.
Better Quality of Life: With dental implants, you can feel confident when surrounded by family, friends, and colleagues. Unlike 20% of denture-wearers who have admitted they are fearful when smiling, you can freely share your newly placed pearly whites.
Health Benefits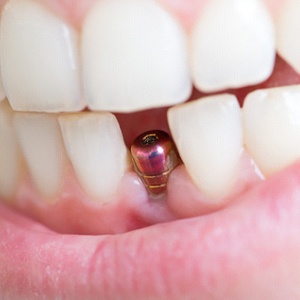 Preserve Your Natural Teeth: Dental bridges require a small portion of tooth enamel to be removed from the surface of your teeth; however, dental implants do not alter your natural teeth because they only replace what is missing from the socket.
Healthier Jaw: Your implant dentist in Louisville will surgically place your dental implants into the bone, which means they will continue to stimulate this area of your facial structure. As a result, you can expect a stronger jawbone that supports your other natural teeth.
Natural Teeth Remain in Place: When tooth loss occurs, it is not uncommon for healthy teeth to shift out of alignment to try and cover the gap. To prevent this from happening, dental implants can replace your missing teeth and keep your natural ones right where they belong.
Improved Health: Shifting teeth isn't the only problem that can occur with missing teeth. You can also suffer from many systemic issues (i.e., osteoporosis, diabetes, and heart disease). By replacing them with dental implants, you can minimize your risk and embrace a better and healthier way to live.
Long-Term Benefits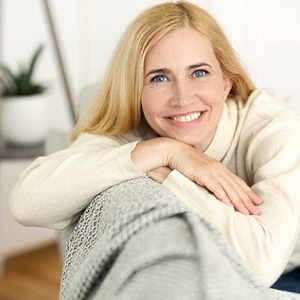 High Success Rate: Dental implants, upon initial placement, have a success rate of around 95%. After 10 years, it falls between 90-95%.
Longevity: Dental implants that are properly cared for and maintained can last 30 years or longer. Some studies suggest they can remain firmly in place for a lifetime!
Cost Savings: If you want to avoid buying denture adhesives, special cleaning supplies, or having to pay for adjustments and replacements, you'll find that dental implants are a much more cost-effective solution.
Are Dental Implants Right for You?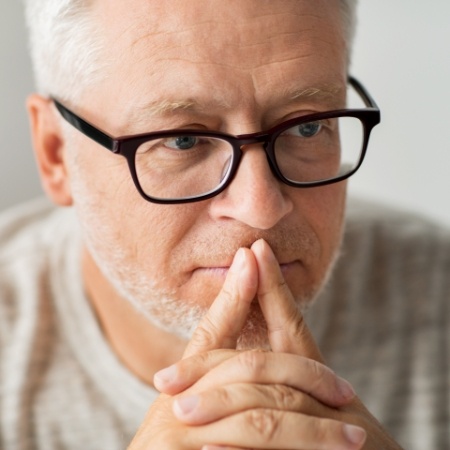 Gum disease and other oral health issues will have to be treated before implant surgery, and we may need to perform a bone graft in order to ensure that there's enough tissue to support the posts. Otherwise, virtually anyone with missing teeth and good overall health can be considered a potential candidate for dental implants. Below are a few examples of cases where you might need to consider filling in the empty space in your grin with an implant.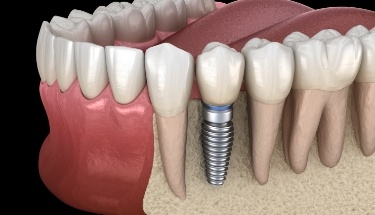 Missing Single Tooth
Instead of filing down the teeth next to the gap to make room for a dental bridge, we can place a single dental implant into the space. It will take a few months for the mouth to fully heal around the post. Once it does, a crown can be used to seamlessly complete your smile.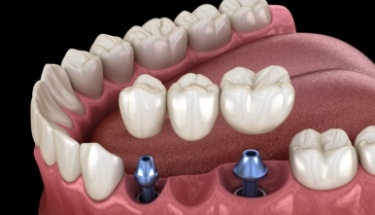 Missing Multiple Teeth
It's possible to support a dental bridge with a pair of implant posts. This is done when three or more teeth in a row are missing. In other words, there's no need to get an individual post for each missing tooth; only two are required to support the crowns at either end of the bridge.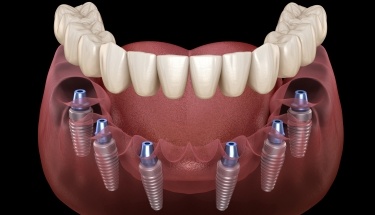 Missing All Teeth
Are you tired of living with the constant worry of your dentures moving out of place at the wrong time? Implants can make it so that you never have to worry about your false teeth slipping again. Furthermore, you'll no longer have to take your dentures out at night, and you can clean them by brushing as if they were real teeth.
Understanding the Cost of Dental Implants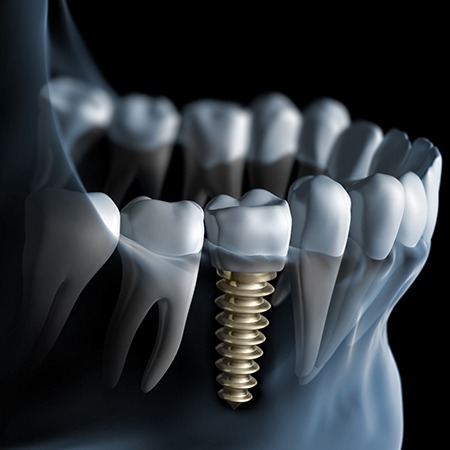 You should feel confident about choosing dental implants to restore your smile, which is why our team will always give you an estimate of how much you can expect to pay for the treatment during your initial consultation. The cost can vary quite a bit depending on various factors; we'll do what we can to help make the treatment as affordable for you as possible. Here are the basics of what you need to keep in mind when considering the cost of dental implants.
Preliminary Treatments & Dental Implant Surgery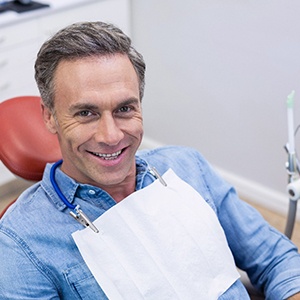 Gum disease therapy, tooth extractions, bone grafting, and other procedures might be needed to ensure the success of your new dental implants. These preliminary treatments do add to the overall cost of the implant process, but fortunately, dental insurance will often help pay for them.
The cost of dental implant surgery can be influenced by a number of factors including the site where the implants need to be placed as well as what type of sedation is used. You can usually expect more complex procedures to carry a higher cost.
The Parts of Your Dental Implant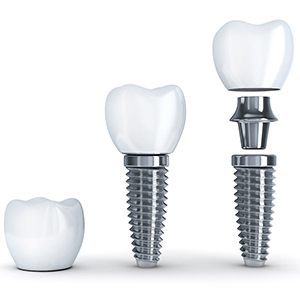 When it comes to the implants themselves, the amount you pay will be affected by:
The number of implant posts that you need.
The type of restoration used (i.e., a crown, a bridge, or a denture)
The materials used to make the implant posts and the restoration
The manufacturer that makes your implants
We can explain all of these factors and how they contribute to the overall cost at the beginning of the implant process.
How Dental Implants Can Save You Money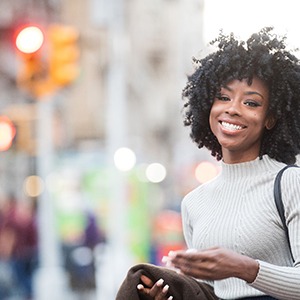 Dentures and dental bridges may initially cost less than dental implants, but they also need to be replaced every 5 to 10 years. Dental implants can stay in your mouth for decades, making it less likely that you'll need to pay for a replacement. You also won't have to buy any pastes, cleaning solutions, or adhesives for your dental implants; they'll stay in your mouth at all times, and you can give them the same care as the rest of your smile.
Does My Dental Insurance Cover Dental Implants?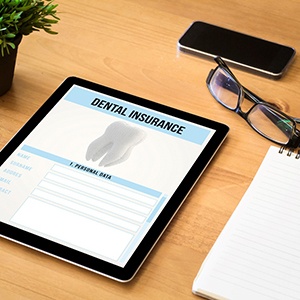 When it comes to the implants themselves, the answer is usually no. Of course, every dental plan is different, and some might be willing to help pay for implants; it can't hurt to call your insurance carrier to check the details of your coverage. Remember that even if the dental implants themselves aren't covered, your insurance might still help with other portions of the treatment, such as the final restoration.
Making Dental Implants Affordable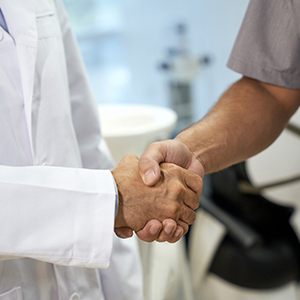 To make paying for dental implants easier, we can help you apply for a financing plan through CareCredit or Proceed Finance. Instead of paying the entire cost all at once, you can break it up into smaller installments that are more accommodating to your personal budget.
Advanced Dental Implant Procedures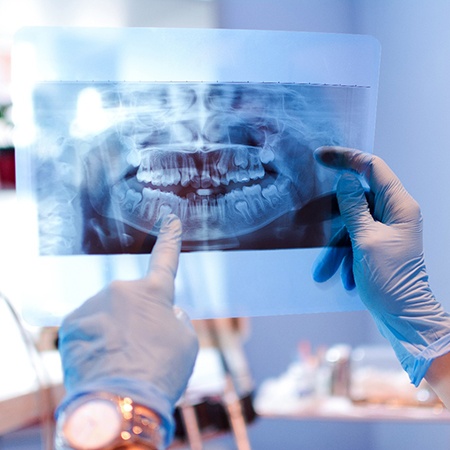 If you're interested in replacing your teeth with sturdy, stable prosthetics, look no further than dental implants in Louisville! Most patients missing one or more teeth qualify for this potentially life-changing treatment. However, since tooth loss leads to jawbone deterioration, some patients may find that they don't have enough bone density to fully support their new smile. Fortunately, we may be able to help with advanced dental implant procedures like bone grafting or a sinus lift! These revolutionary services can help patients achieve the strong, stable foundation needed to support dental implants for decades to come. Read on to learn more about these procedures and give us a call to schedule your consultation!
Why Jawbone Density Matters for Dental Implants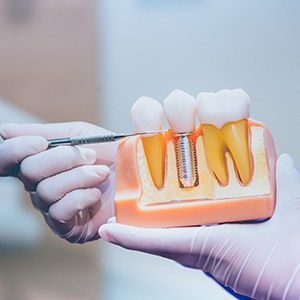 Your jaw doesn't feel particularly light, so why are you being told that you don't have enough jawbone density to support dental implants? You may not be able to feel that your jawbone has deteriorated since you've lost some of your teeth, but this factor plays a huge role in the success of your dental implant nonetheless.
The roots of your teeth stimulate blood flow in the jawbone, which keeps it strong and healthy, Once a tooth goes missing and the stimulation from its roots stops, that area of the jawbone will naturally begin to deteriorate. Dental implants are a fantastic tooth replacement option because they work to restore the missing root structure of a tooth, promoting circulation in the jawbone once again for a strong, stable jawbone. However, in order for dental implants to do that, they need to successfully fuse with the existing jawbone tissue. If the jawbone has deteriorated too much, there won't be enough tissue for the dental implant to form a strong bond with.
Fortunately, if you lack jawbone density, a bone graft or a sinus lift can help!
Bone Grafting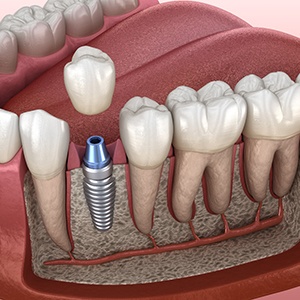 A bone graft is a minor surgical procedure where we'll use healthy bone tissue to naturally stimulate new jawbone tissue in a specific area. First, we'll collect the tissue from another place on your body or a donor. This grafting material is then placed onto the parts of the jawbone that need to be thickened. As the grafted tissue is assimilated into place, it will encourage more bone tissue to grow naturally in the area to the point where it can support a dental implant! This process will often take several months, but it's essential for ensuring your dental implant lasts as long as possible.
Sinus Lifts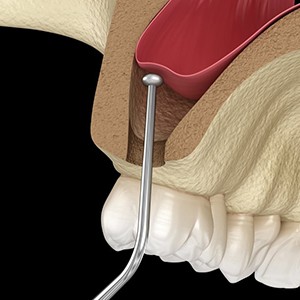 A sinus lift is a specific type of bone graft. Your sinus cavity sits just above your upper back molars. If one of these teeth has gone missing and the jawbone has deteriorated, there may not be a thick enough foundation to place a dental implant without it poking into your sinuses. A sinus lift involves taking bone tissue (again, from another part of your body or from a donor) and placing it in the specific area. To do this, we'll make a small window in your jawbone and gently push up the membrane that holds your sinuses. The newly created empty space is then filled with the grafting material, and over the coming months the area will strengthen.
Maintaining & Caring for Your Dental Implants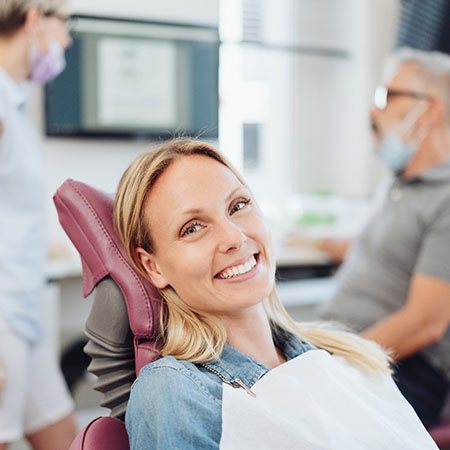 Dental implants are very successful, so they can keep your smile strong for a lifetime! However, this is only if you take all of the proper steps to care for them. If you aren't protecting your new smile from damage and infection, your implants could fail and need to be replaced. Here are some simple precautions and healthy habits you can implement so you can enjoy your restored smile for many years down the road!
Make Oral Hygiene a Priority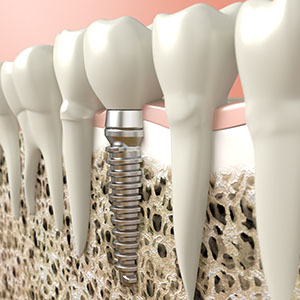 Dental implants can't get cavities, but you still need to keep up an excellent oral hygiene routine. If your surrounding teeth and gums aren't healthy, your dental implant will be more likely to fail. By taking the time to brush and floss every day and rinsing with mouthwash, you can decrease your risk of developing cavities in your natural teeth and getting gum disease.
Eat a Healthy Diet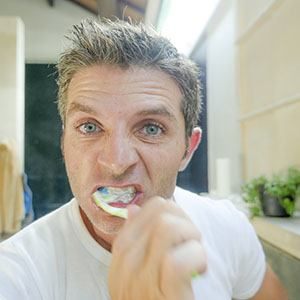 When you get dental implants, you don't need to eliminate any foods from your diet. You can enjoy all of the nutritious foods you want. Just be careful not to have too many items that are hard, sticky, or sugary. Stick to a diet that contains plenty of calcium and vitamin C to keep your jawbone strong and your gum tissue healthy.
Break Bad Habits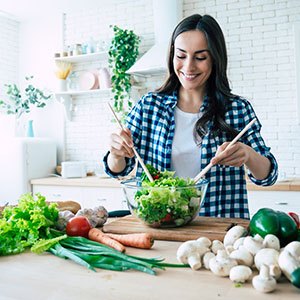 Bad dental habits can increase your risk of dental implant failure. Refrain from smoking and using other tobacco products. Don't use your teeth to bite or chew down on hard objects either. This can cause damage to your natural and replacement teeth.
Protect Your Dental Implants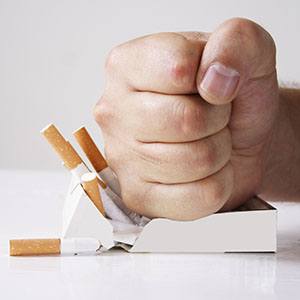 Dental implants are very strong, but they aren't indestructible. You should always wear a mouthguard when you are participating in sports. If you grind your teeth at night while you sleep, you may want to consider wearing a nightguard to prevent additional wear and tear.
Schedule Regular Dental Checkups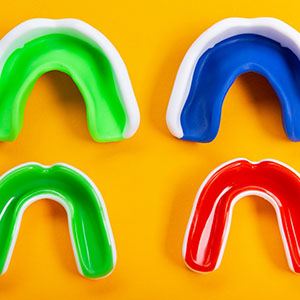 You should continue to attend regular cleanings and checkups every six months. This way, we can thoroughly clean your smile and be on the lookout for changes that could indicate a problem with your implant or another part of your mouth.
Dental Implant FAQs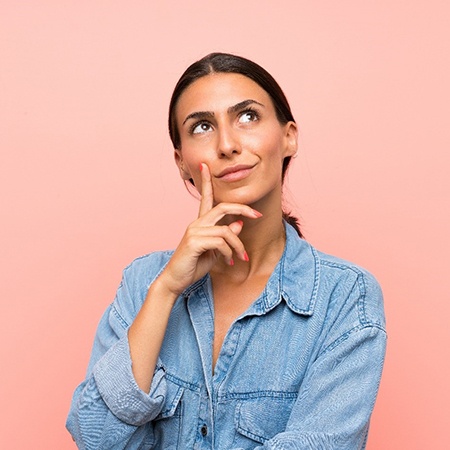 Are you still curious about dental implants in Louisville? If so, we're glad you found us. For any specific concerns, please don't hesitate to contact our office and speak with one of our friendly team members. Until then, we want to make the information you need as easy to access as possible. That's why we've included the answers to some of the most frequently asked questions about dental implants below. Read on to satisfy your curiosity!
How Long Do Implants Last?
Dental implants are designed to last for over 30 years, or even the rest of your life. However, the longevity of your implants will depend directly on your health and lifestyle. It's vital that you brush, floss, and visit our office regularly to prevent common issues like gum disease. Infection and other dental problems can lead to dental implant failure. Additionally, avoiding the use of your teeth for anything other than eating and speaking will reduce your risk of damage. Keep in mind that implants will usually last much longer than traditional dentures or bridges.
Can I Take Dental Implants Out?
No – dental implants are surgically placed in the jawbone to become a permanent part of your body. They fuse to the bone during a process called osseointegration, allowing them to act as strong, sturdy artificial tooth roots. For this reason, dental implants can only be removed by a professional. However, some of the implant dentures that we offer can be removed for cleaning and maintenance, but this will depend on your specific case.
Does Getting Dental Implants Hurt?
Many assume that getting dental implants hurts because they require surgery. However, we will always ensure that you're numb and comfortable by using local anesthetic. We also offer sedation dentistry if you'd like to experience a greater sense of calm. Plus, there aren't many pain-sensing nerves in the jaw, making the procedure much more painless than you may have thought. That said, some soreness and very slight discomfort is completely normal after your surgery. This can be easily managed with prescribed or over-the-counter pain medication. If your pain seems to get worse after 2 to 3 days, please don't hesitate to contact our office for treatment.
How Successful Are Dental Implants?
When choosing dental implants in Louisville, you can enjoy total peace of mind thanks to their amazing predictability. Even after 10 years, dental implants have a success rate of 95%. The success rate of your implants will vary based on how well you care for your smile, which includes routine checkups to our office along with a good at-home oral healthcare routine. Additionally, success can depend on the area that implants are placed. Your back molars receive more pressure compared to front teeth due to chewing, which may make them more likely to fail.