Dental Implants – Louisville, KY
Replacing Your Teeth with Sturdy, Stable Prosthetics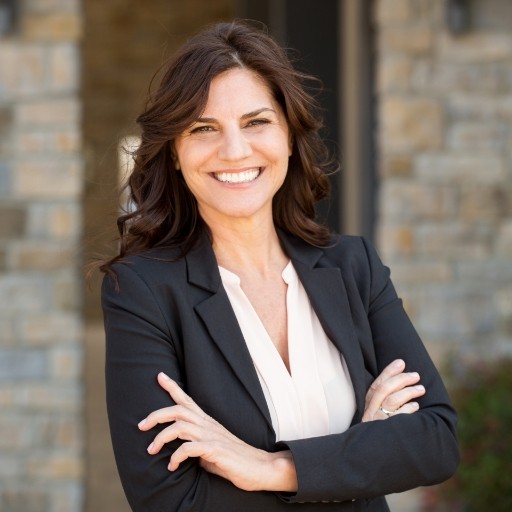 It won't take long for you to realize just how challenging life without teeth can be, so naturally you'll start looking for replacement options as soon as possible. Dentures and bridges both have their advantages, but if you want your new teeth to function and feel like your old ones, then there's only one real choice: dental implants. If you schedule a consultation with Dr. Cordini, he can help you determine whether or not you're a candidate for rebuilding your smile with dental implants in our Louisville, KY periodontal office.
Why Choose Cordini Periodontics & Implants for Dental Implants?
Up to Date with the Latest Technology
Periodontist That Helps You Feel at Ease
Restorations Made and Placed In-House
What is a Dental Implant?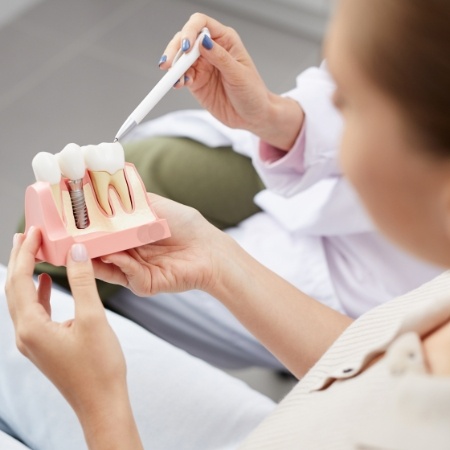 By itself, a dental implant resembles a small screw. Unlike other tooth replacements that rest on the gums or natural teeth, implants interface directly with the jawbone, fusing with the surrounding tissue and essentially becoming part of your body. A fully integrated dental implant can act as support for a wide variety of restorations, such as a single crown, a dental bridge, or even full dentures depending on how many teeth are missing or extracted.
Benefits of Dental Implants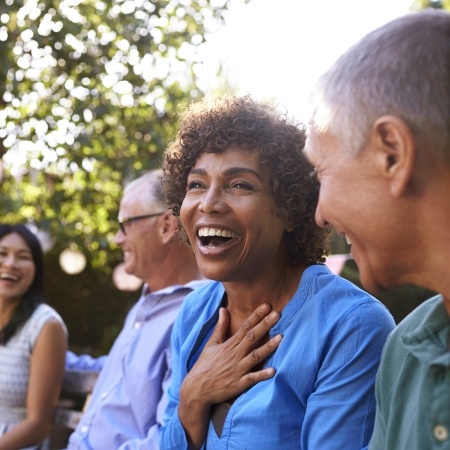 Dental implants offer the most complete form of tooth replacement because they fill in for the roots normally hidden beneath the gums. As such, your new teeth will be firmly anchored in place, and they'll continue to stimulate the underlying jawbone to keep it from breaking down. Also, when it comes to durability, dental implants last decades longer than traditional forms of tooth replacement. They'll also allow you to comfortably bite and chew your favorite foods without restriction.
Are Dental Implants Right for You?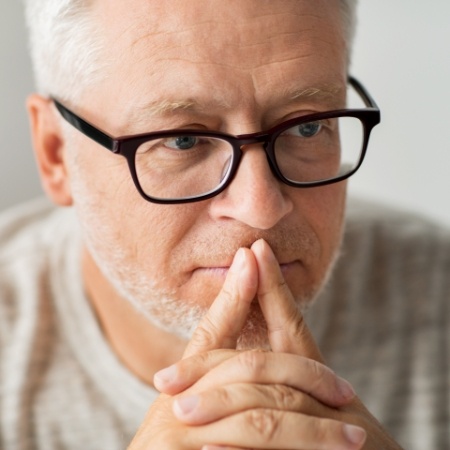 Gum disease and other oral health issues will have to be treated before implant surgery, and we may need to perform a bone graft in order to ensure that there's enough tissue to support the posts. Otherwise, virtually anyone with missing teeth and good overall health can be considered a potential candidate for dental implants. Below are a few examples of cases where you might need to consider filling in the empty space in your grin with an implant.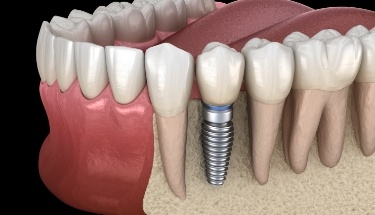 Missing Single Tooth
Instead of filing down the teeth next to the gap to make room for a dental bridge, we can place a single dental implant into the space. It will take a few months for the mouth to fully heal around the post. Once it does, a crown can be used to seamlessly complete your smile.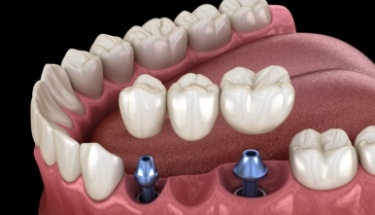 Missing Multiple Teeth
It's possible to support a dental bridge with a pair of implant posts. This is done when three or more teeth in a row are missing. In other words, there's no need to get an individual post for each missing tooth; only two are required to support the crowns at either end of the bridge.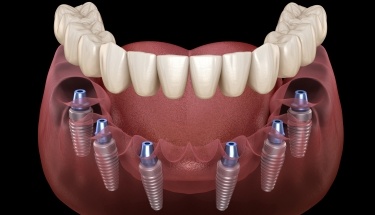 Missing All Teeth
Are you tired of living with the constant worry of your dentures moving out of place at the wrong time? Implants can make it so that you never have to worry about your false teeth slipping again. Furthermore, you'll no longer have to take your dentures out at night, and you can clean them by brushing as if they were real teeth.
How Dental Implants Work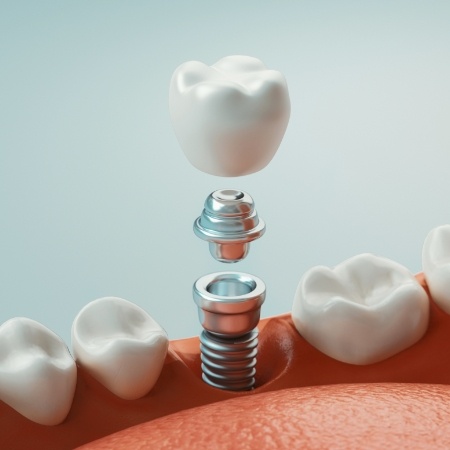 The dental implant process is slightly different for everyone depending on their needs, but it generally includes the following steps:
A consultation to determine whether or not you can get implants
Bone grafts, periodontal therapy, and any other treatment deemed necessary
Surgery to place the implants in the mouth
A period of time to allow the implants to join with the jaw (usually around two to six months depending on your body's healing capabilities)
The placement of a custom crown, bridge, or dentures
Restoring Your Dental Implant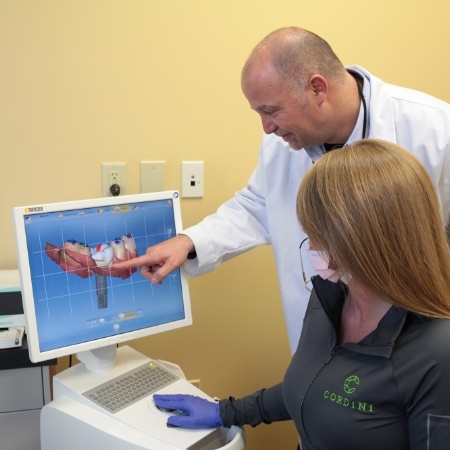 As beneficial as dental implants are, they can't replace teeth by themselves. You won't be able to use them to bite and chew until they've been topped with a restoration of some kind. We can handle both the placement and restoration of implants in-house for your convenience. Our CEREC machine even lets us design and place crowns in a single visit. Also, if you choose to undergo the All-on-4 procedure, you may be eligible to receive a temporary restoration on the same day as the surgery.
Understanding the Cost of Dental Implants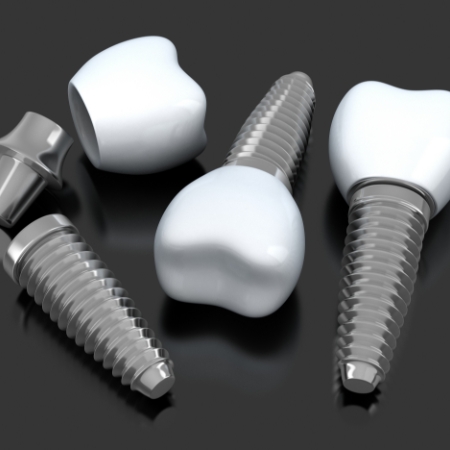 When you first start researching the cost of dental implants, you'll probably notice that the initial price is likely to be higher than that of traditional bridges and dentures. However, if you want to make the best financial choice in the long term, dental implants are likely to be your best investment. Since they can last for decades or even a lifetime, you won't have to pay to have them redone nearly as often as you would with more traditional forms of tooth