April 19, 2022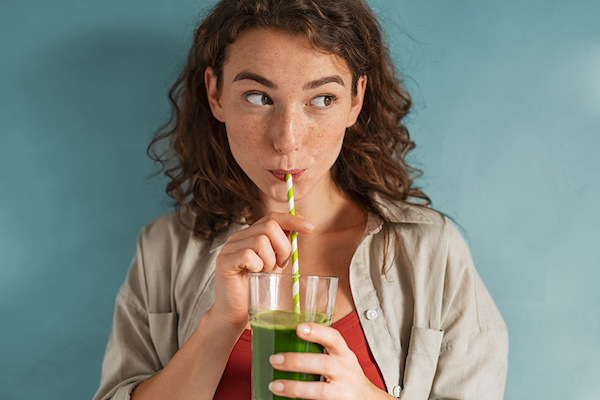 Teeth Xpress is a comprehensive tooth replacement option that helps you regain the full form and function of your smile with secure dental implants. While the procedure itself takes place in a single day, your recovery time may be a bit longer. Keep reading to learn what you should eat and drink in the days and weeks following your Teeth Xpress surgery. 
Common Symptoms Following Implantation
After the Teeth Xpress surgery is complete, you leave your dentist's office with a new set of beautiful teeth. And, as with any oral procedure, you will likely experience some side effects of implantation.
Some of the most common symptoms include:
Swelling
Stiffness in the jaw muscles
Minimal bleeding
Sore throat
Sleepiness (a result of any sedation)
You should brush your teeth on the same day as the procedure. Keeping the teeth clean will prevent any infection from developing. You will have sutures/stitches for up to three weeks. Clean around them carefully.
What to Eat and Drink Right After the Procedure
Immediately after the procedure you will be directed to adhere to a liquid diet. Eating anything else will likely not be appealing, anyway, due to natural stiffness/soreness. Stick to cool liquids only in the first 48 hours after surgery.
Some great items to eat during the liquid diet phase include:
Water, tea, coffee
Coconut water
Yogurt drinks and shakes
Ice cream
Smoothies
Chicken, beef, or vegetable broth
Pureed vegetable soup
Juice
Jello
2 Weeks to Three Months Following the Procedure
As your mouth continues to heal, the soreness will subside – but you must still take care when eating and avoid anything chewy, crunchy, or sticky. Your dental implants are going through an important process known as osseointegration. This is when the titanium posts grow together with the jaw bone to provide a sturdy foundation for your replacement teeth.
Some items that you can eat during this time include:
Mashed fruits and vegetables, like banana, avocado, steamed cauliflower, etc.
Canned fruits and vegetables
Soft breads
Oatmeal
Mashed potatoes
Cheese
Applesauce
Eggs
Hummus
Yogurt
Even as your mouth starts to feel less sore, make sure you get your dentist's clearance before you resume your normal activities. Follow all post-op instructions closely, including what to eat and drink, and you will be enjoying all the benefits of your healthy, complete smile in no time!
Meet the Periodontist
Originally from Italy, Dr. Franco Cordini decided to become a periodontist out of his drive to help people. He received his dental degree from the Creighton University School of Dentistry and specialized in periodontics at the University of Louisville. He has been providing quality periodontal care for more than 20 years. To learn more about the Teeth XPress recovery or to schedule a consultation, contact Dr. Cordini's office at (502) 425-5010. 
Comments Off

on What to Know About Eating & Drinking After TeethXpress Surgery
No Comments
No comments yet.
RSS feed for comments on this post.
Sorry, the comment form is closed at this time.