February 15, 2022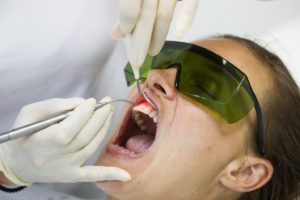 Your teeth aren't the only aspect of a beautiful smile. Your gums are equally important. Unfortunately, genetics, trauma, and other issues can cause an uneven gum line, which can make your smile look unbalanced. Whether you have a "gummy smile" or inflamed tissue, you can enjoy the benefits of gum recontouring. Here are 5 reasons to invest in a better gum line using the advanced procedure.
1. Achieve an Attractive Smile
Too much gum tissue can make your teeth look short, also known as a gummy smile, but that's not the only concern. The extra tissue can increase your risk of infections and other dental concerns. Gum recontouring removes excess tissue to reveal more of the surfaces of your teeth. The procedure can also fix a gumline that's too high. Gum recession can leave the roots exposed, making your teeth look longer. Gum resculpting with a dental laser can remove or reshape the tissue to create a balanced, healthy smile you'll want to show off.
2. Improve Your Oral Health
Cavities aren't the only threat to your dental health. 50% of Americans have gum disease, which is a leading cause of tooth loss. Gum recontouring with a soft tissue laser can treat the infection. It can decrease the periodontal pockets to prevent tooth decay, advanced gum disease, and bone degeneration. The laser will also sterilize the treatment site to eliminate the bacteria responsible for the infection for better gum health.
3. Support Your General Health
Your oral and general health are entwined. Research shows gum disease can have a significant impact on your wellness. Gum disease is linked to an increased risk of several health concerns, including cardiovascular disease, Alzheimer's disease, and respiratory infections. Improving your gum health will support your overall well-being for a healthy mouth and body.
4. Quick and Minimally Invasive
Scalpels and sutures aren't used to fix a gummy smile anymore. Instead, a highly concentrated beam of light energy targets the tissue, providing a less invasive and more accurate procedure. You'll benefit from unmatched precision and a quicker recovery using advanced technology.
5. Minimal Post-Op Risks
A dental laser minimizes post-op complications. The surgical site is sterilized as the tissue is removed to lessen the risk of infection. It also cauterizes the gums to prevent bleeding, inflammation, and discomfort while your mouth heals.
Revamp Your Smile Today
Gum recontouring is a short procedure that offers amazing benefits for your oral health, general wellness, and self-esteem. If you're ready to love the smile you see in the mirror, it's time to see if laser gum recontouring is right for you.
About Dr. Franco Cordini
Dr. Cordini earned his dental degree from Creighton University School of Dentistry before undergoing advanced training in periodontics at the University of Louisville. He has over 20 years of experience in the dental field, creating healthy smiles using the latest innovations in dentistry. If you want to improve your gummy smile or have damage from gum disease, contact our office today for a consultation.
Comments Off

on 5 Reasons to Choose Laser Gum Recontouring
No Comments
No comments yet.
RSS feed for comments on this post.
Sorry, the comment form is closed at this time.