January 14, 2022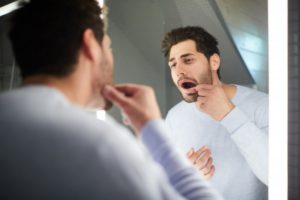 When you hear the term "oral health," your teeth are probably the first thing to come to mind. But did you know that your gums play an equally important role? If you don't take good care of your gums with proper oral hygiene, they could become infected to the point where they pull away from your teeth. Has this already happened to you? If so, you might be wondering if receded gums grow back. Keep reading to learn the answer!
Why Do Gums Recede?
Some of the most common reasons why gums recede are:
Gum disease – By far the most prevalent cause of gum recession, gum disease can destroy the tissue and bone that support your teeth. Pockets then form between the gums and the teeth. Bacteria view these pockets as prime real estate to gather and wreak havoc on your smile.
Poor oral hygiene – Failure to brush and floss every day can contribute to the buildup of plaque, which in turn leads to gum recession.
Overbrushing – Daily brushing is essential but using too much force could actually wear down your gums and even the enamel of your teeth.
Genetics – Research suggests that about 30% of the population is genetically predisposed to gum disease, no matter how well they care for their smiles.
Can Gum Recession Be Reversed?
Unfortunately, gum recession is irreversible. Once your gums have receded, they will not grow back. On the bright side, it's possible to prevent gum recession from becoming worse by seeing your dentist or periodontist whenever you notice a problem with your gums. Of course, the sooner you receive the care you need, the easier it will be to get your smile in good shape again!
How to Prevent Further Gum Recession
Your dentist or periodontist can administer certain treatments based on your specific circumstances, but here are some general tips for maintaining healthy gums:
Practice good oral hygiene – Brushing twice a day and flossing once a day are simple yet effective ways to keep your mouth clean.
Quit smoking – Cigarettes and other tobacco products have been linked to a higher risk of gum disease, not to mention a whole host of other health problems. Now is the perfect time to kick this harmful habit!
Stick to a balanced diet – Cut back on sugary snacks and eat plenty of leafy greens and fresh produce, which have nutrients that improve gum health.
See your dentist regularly – Preventive care is the key to a healthy smile. Make sure to visit your dentist or periodontist at least every six months, or more often if recommended.
While receded gums cannot grow back, you can easily prevent the problem from worsening by following the tips listed above. Of course, don't be afraid to ask your periodontist for personalized advice!
About the Author
After he graduated from the Creighton University School of Dentistry, Dr. Franco Cordini completed his advanced training in periodontics at the University of Louisville. Over his more than two decades of experience as a periodontist, he has helped countless patients enjoy healthy gums. He specializes in making patients with severe dental phobia or anxiety feel at ease when getting the treatments they need. If you're experiencing gum recession, you can contact Cordini Periodontics at 502-425-5010.
Comments Off

on Do Receded Gums Grow Back?
No Comments
No comments yet.
RSS feed for comments on this post.
Sorry, the comment form is closed at this time.