August 14, 2021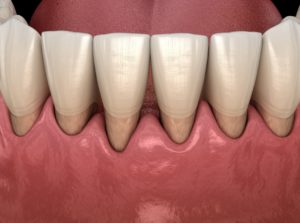 Your teeth are important for more than just biting and chewing. They also influence your facial features, but did you know your gums are equally important? Unfortunately, the Centers for Disease Control and Prevention estimates at least 50% of people have gum disease. As the leading cause of tooth loss, the infection can wreak havoc on your dental health, which can change the way you look on the outside. Here's what you need to know about gum disease and facial shape to conquer the infection.
Gum Disease Affects More Than Your Smile
Poor oral hygiene habits that result in plaque and tartar accumulations cause gum disease. The buildup harbors bacteria that can destroy the supporting structures for your teeth with no treatment. This can lead to tooth loss. The complications don't end there because the infection can also enter your bloodstream, increasing your risk of several medical issues, like heart disease and Alzheimer's disease.
While you might hide the infection for a while, but soon it will be apparent to everyone because it can change your facial shape. As the infection progresses, your teeth won't have the support they need to stay in place. Their positions can shift, and they may fall out. You can lose as much as 25% of your jawbone's density within the first year of missing a tooth.
Over time, your facial tissues won't have the infrastructure they need. You can develop wrinkles and sagging skin. Instead of insecurities about your dental health, your confidence can decline because of your aged appearance.
Invest in a Lasting Beautiful Smile
Although gum disease is common, your smile doesn't need to fall victim to the infection. You can keep it at bay and preserve a youthful look by following a few tips:
Brush Twice Daily: Your toothbrush is your first line of defense against cavities and gum disease. The American Dental Association recommends brushing at least twice daily for 2 minutes. It's best to use a soft-bristled toothbrush and fluoride toothpaste.
Floss Nightly: If you're not flossing, you're leaving up to 40% of your teeth unclean. Use high-quality dental floss to clean between each tooth before going to bed.
Use a Mouthrinse: Add an antibacterial mouthrinse to your daily oral hygiene routine to kill bacteria left behind by your toothbrush and floss.
Visit Your Dentist: The American Dental Association supports having a cleaning and checkup every 6 months. Your dentist can remove tartar buildup and monitor your gum health to detect the infection early.
Don't Wait to See a Dentist
If you have red, swollen, or bleeding gums, don't wait for the infection to devastate your smile. Contact your dentist right away to stop the infection in its tracts.
About Dr. Franco Cordini
Dr. Cordini has over 20 years of experience creating healthy, beautiful smiles. After earning his dental degree, he continued his training at the University of Louisville to focus on periodontics. He can treat the most complex oral health issues, like periodontal disease. Contact our office today to schedule your consultation.
Comments Off

on Gum Disease Can Affect Your Facial Structure
No Comments
No comments yet.
RSS feed for comments on this post.
Sorry, the comment form is closed at this time.