June 20, 2021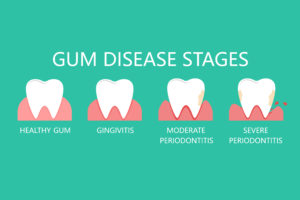 Gingivitis, periodontitis, and gum disease — these words get used frequently in conversations about dentistry and oral health. It can be easy to get confused, especially since they are all used in reference to gum health, and often with similar connotations. Let's take a moment to clear things up. Gum disease is a general term that can refer to either gingivitis or periodontitis, which are terms that define how severe the gum disease is. Let's talk about some of the key differences between these conditions.
Gingivitis
Gingivitis is inflammation of the gum tissue. It occurs when plaque and bacteria accumulate between the teeth, causing irritation and swelling. Signs and symptoms of gingivitis include red, swollen gums, gums that bleed easily when you brush and floss, and bad breath.
Thankfully, gingivitis is not a severe threat to your oral health. It does not cause serious tissue damage, and it can usually be prevented or even reversed via thorough oral hygiene and other minor changes to how you care for your mouth. If you suspect you have gingivitis, it is important that you consult with your dentist because without proper treatment, your condition could easily worsen and turn into periodontitis.
Periodontitis
Periodontitis is the condition that occurs when the bacteria that cause gum disease begin to attack the bone surrounding the teeth. The gums begin to shrink back, leaving open pockets between them and the teeth. The bone itself also shrinks, and it can become so damaged that the teeth begin to feel loose. (In fact, periodontitis is one of the leading causes of tooth loss.) Symptoms of periodontitis are similar to those of gingivitis, except they are more severe and may also include gum recession and difficulty chewing.
Periodontitis causes permanent damage to the oral tissues. However, treating it as early on as possible can keep that damage to a minimum. Antibiotics, reparative surgery, and deep dental cleanings may all be used as part of a plan to stop periodontitis.
Telling the Difference
It can be difficult to tell the difference between gingivitis and periodontitis on your own, especially if the periodontitis is relatively new. Instead of trying to self-diagnose, it is best to visit a qualified periodontist (a dentist who specializes in gum health) whenever you suspect that something is off with your gum health. They can evaluate the situation, make an accurate diagnosis, and recommend your next steps for getting your oral health back on track.
Gum disease is nothing to take lightly! The sooner you treat it, the less likely it is that you will suffer from permanent oral damage.
Meet the Periodontist
Dr. Franco Cordini earned his dental degree from Creighton University School of Dentistry, after which he completed extensive specialist training in periodontics at the University of Louisville. He has been in private practice for more than 20 years and offers a range of services, including both surgical and nonsurgical gum disease treatments. If you are concerned about your gum health, he would be pleased to consult with you. Contact our office at 502-425-5010.
Comments Off

on Gingivitis vs. Periodontitis — What's the Difference?
No Comments
No comments yet.
RSS feed for comments on this post.
Sorry, the comment form is closed at this time.